My Colored Pencil Painting Bible review.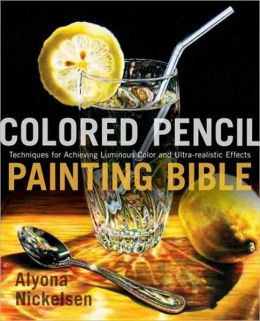 The book that I'm reviewing today is Colored Pencil Painting Bible: Techniques for Achieving Luminous Color and Ultra-realistic Effects by Alyona Nickelsen. The first thing that I noticed about the book was the cover (duh). That's a pretty great colored pencil drawing (or painting as the author calls them). The basic technique used throughout the book is essentially layering color with wax based colored pencils (Prismacolor pencils), using solvent (such as Gamblin's OMS Gamsol) to remove visible pencil strokes and blend the colors together, and finally layering more colored pencil (burnishing where needed) to complete the "painting".
In the Colored Pencil Painting Bible, Alyona talks about different types of paper, pencils, solvents, and other things such as erasing tools. She tells the reader about color charts and how the reader can create them. This book briefly covers art fundamentals such as composition, color, value, light, and shadows. The author also talks about different pencil strokes, blending, layering colors, burnishing, and image transferring.
At the end of the Colored Pencil Painting Bible the author includes charts that list the lightfastness (how permanent or unaffected by light the color is) of colored pencils. The information can be useful to artists who use colored pencils such as Caran d'Ache Luminance, or Faber-Castell Polychromos. The majority of artists that I know (including myself) who use colored pencils prefer Prismacolor Premier pencils. The charts have no lightfastness ratings for those pencils, which was a huge letdown for me. Thankfully for you, I took the initiative to find the lightfast ratings for the Prismacolor Premier colored pencils. You can see that chart here.
One nice tip I took away from this book is how to obtain a rich black color. Alyona applies black colored pencil to the paper (she prefers Stonehenge), and melts the wax with an OMS wash. Next, she layers indigo blue, dark green, and tuscan red. She then adds another layer of black and blends the mix with a colorless blender.
While I think that Alyona's technique is nice, I think that the book could be shorter and have a smaller price tag (although as I write this review the book is only $17.15 on Amazon). I think that it has too many exercises in it that just bulk it up. This book provides a good foundation for anyone interested in furthering their knowledge of colored pencils, or anyone who is interested in taking colored pencil art seriously. I recommend at least checking it out from the library if you are serious about colored pencil art.
There you have it! That's my Colored Pencil Painting Bible review.