Here are the steps that I took for my painting The Christmas Ornament for the Non-Christmas Show at Fountain Street Church.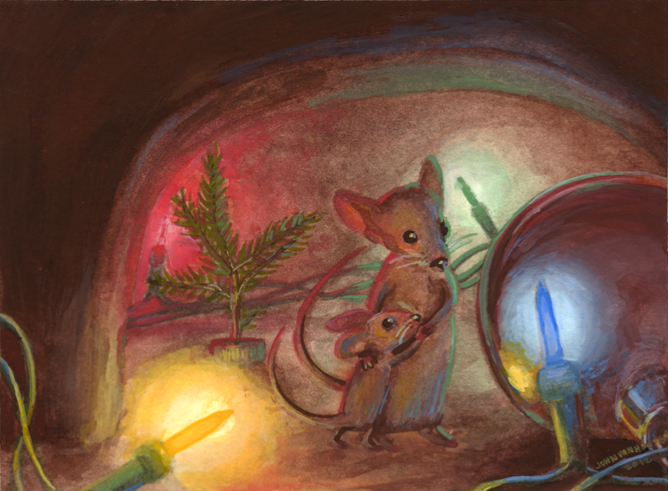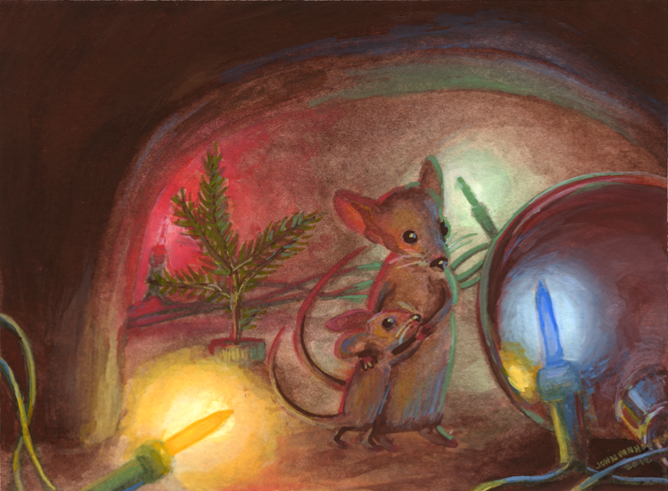 The Christmas Ornament is watercolor and gouache on cold press watercolor paper. 7.25″ x 5.25″. The show ran from November 28, 2012 through January 4, 2013.
The "rules" of the show were simple; we had to use an animal allegory that somehow related to Christmas and a few neon colors here and there would be nice as well.
With that information I did a few thumbnail drawings (normally I do many many more thumbnails) and when I picked the composition and idea that I liked the most, I did a larger pencil preliminary of the image. I took many reference photos of a scene I set up using a christmas ornament, christmas lights, a "mini-christmas tree" aka a clipping from a pine tree, attached to a pop bottle top using a paperclip (the mice would have put this together), and some of my mother's collectible mice figurines. After that, I looked for some reference pictures of mice. I projected my drawing onto the paper; drew a faint outline with pencil and taped the paper to a piece of wood with painters tape. I applied some thin washes of watercolor and the paper began to bow. I then sought out a different method of keeping it flat.
The watercolor paper I used wasn't very thick and it buckled quickly so I decided to use the 'popsicle method' found on HandPrint to stretch my paper. I don't have any popsicle sticks so I used a wooden paint stir stick. I cut it on the band saw into smaller pieces. If you want to know more about this method of stretching paper (which I recommend you learn how to do) go here.
This painting was originally going to be just a watercolor painting but I decided that it needed the brightness you can achieve using gouache. Boy, am I glad I decided to add gouache to the painting!  It immediately started to 'pop' after I added gouache. I even tried mixing watercolor paint with white gouache (which is not that uncommon).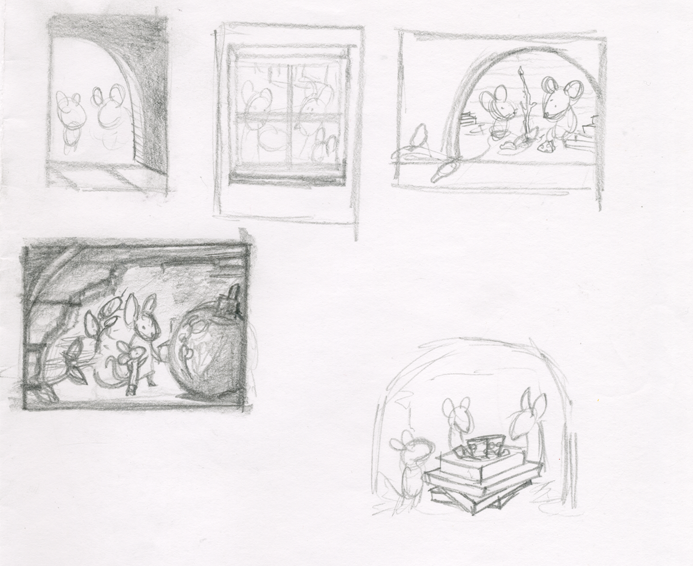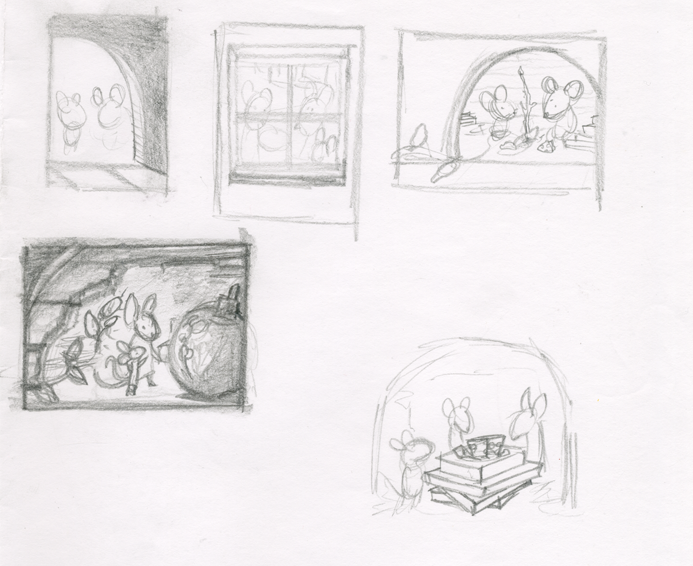 These are the thumbnail sketches for the painting. The idea I decided to use was two mice, a father or mother mouse, with their child mouse, enjoying each others company and looking at the christmas ornament (hence the name of the painting). We are peeking in at them through a hole in the wall. They made a christmas tree using part of a branch and a pop bottle cap and a paperclip. They dragged some of the christmas lights from in the room into their home.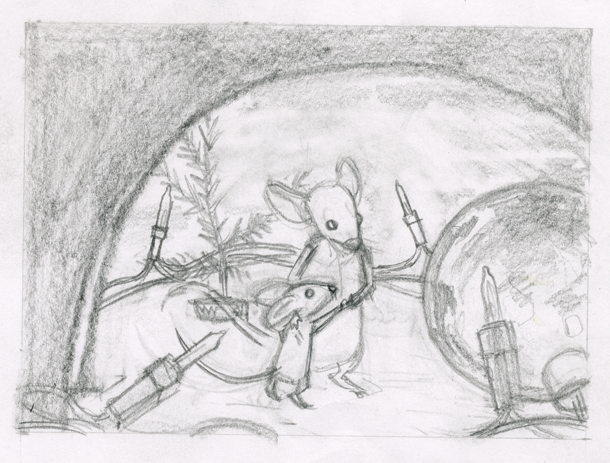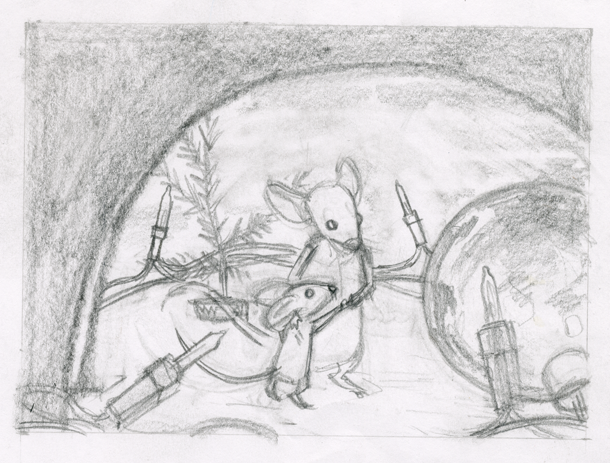 The pencil preliminary measures 5.5″x4″.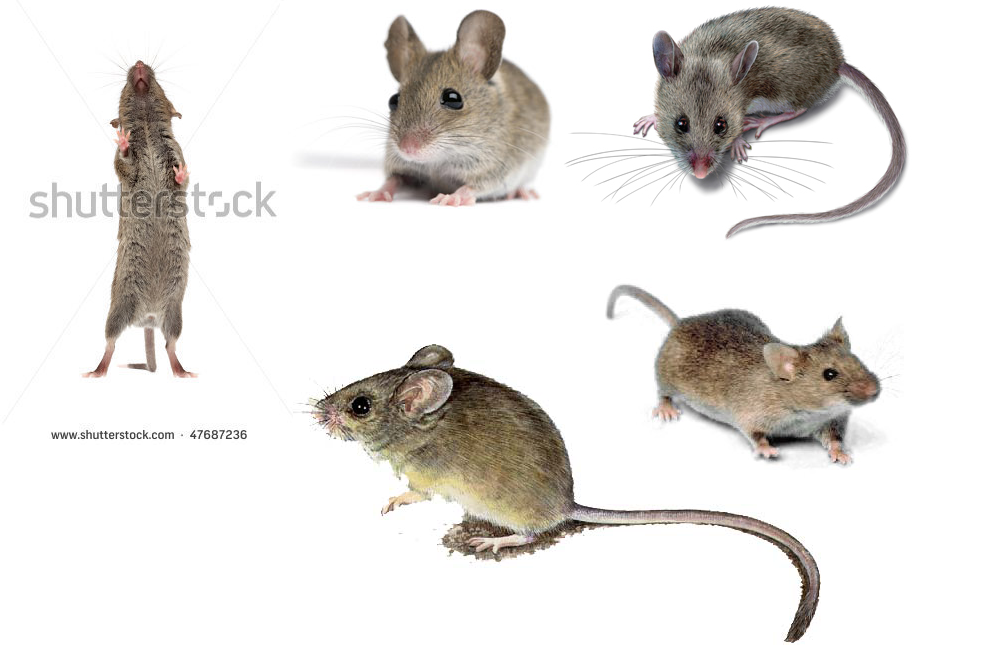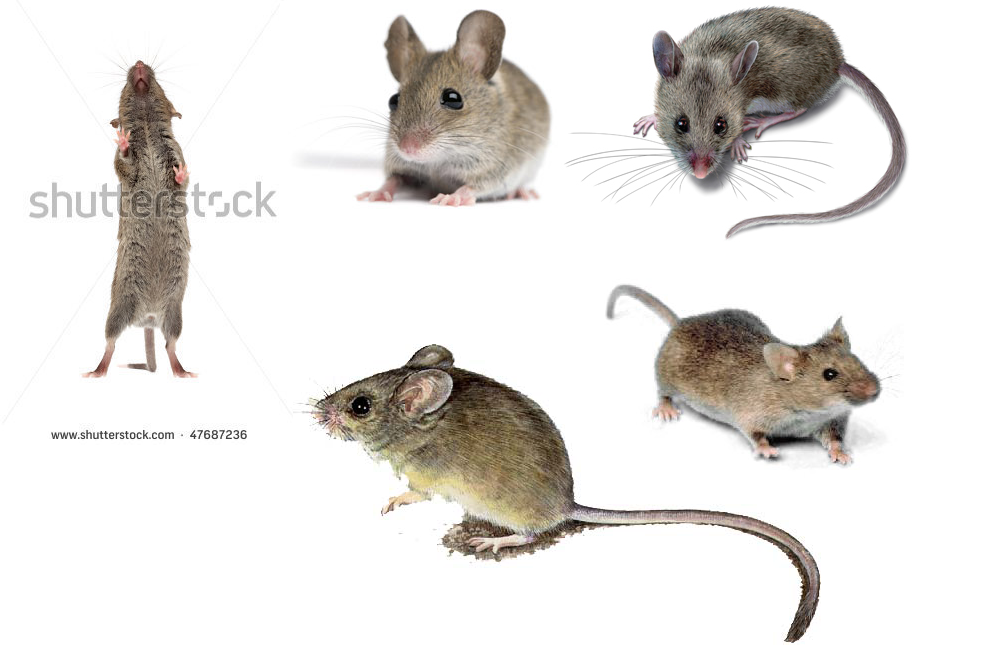 Mice reference photos.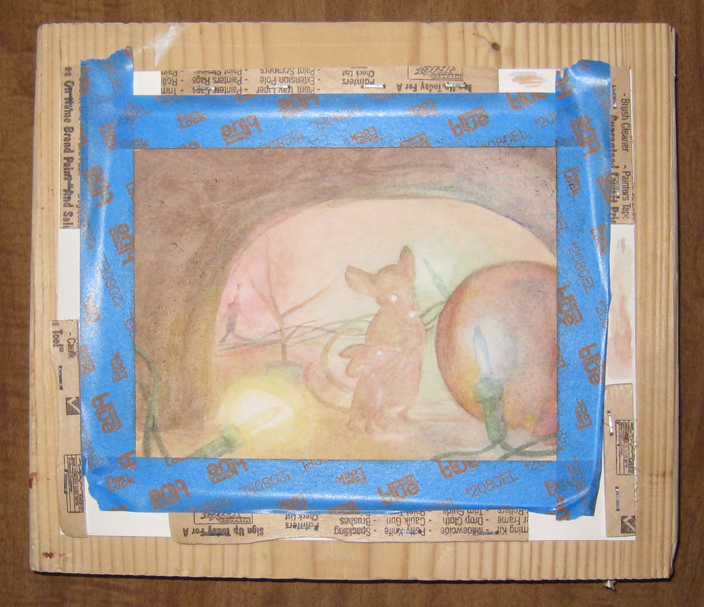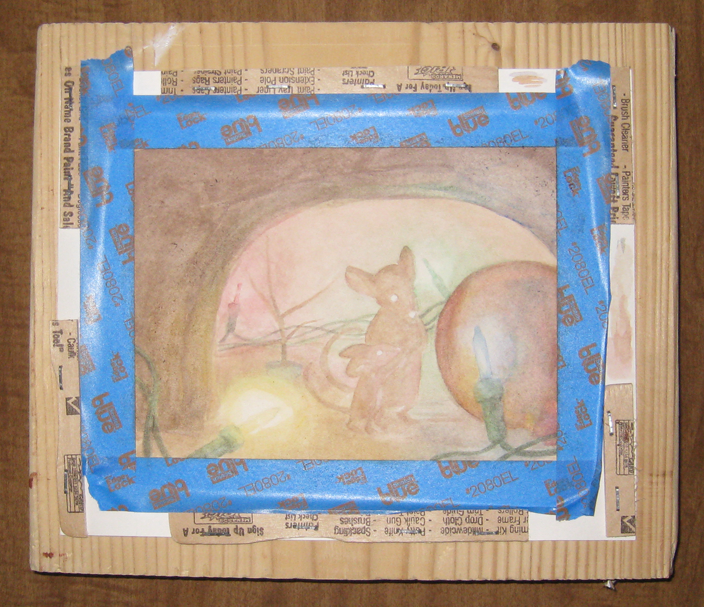 The Christmas Ornament early in the early painting stages. Here you can see the paint stir sticks I used to stretch the paper.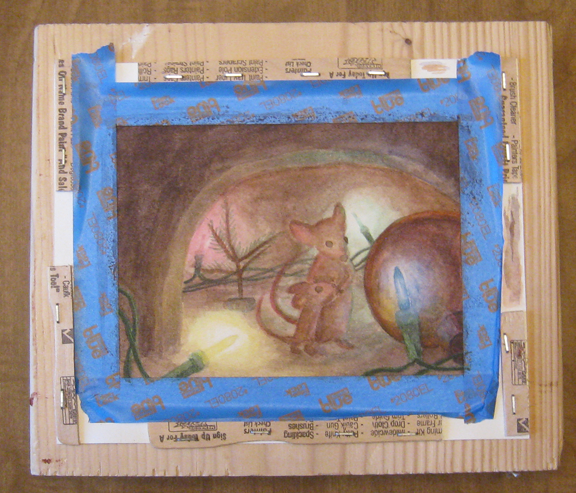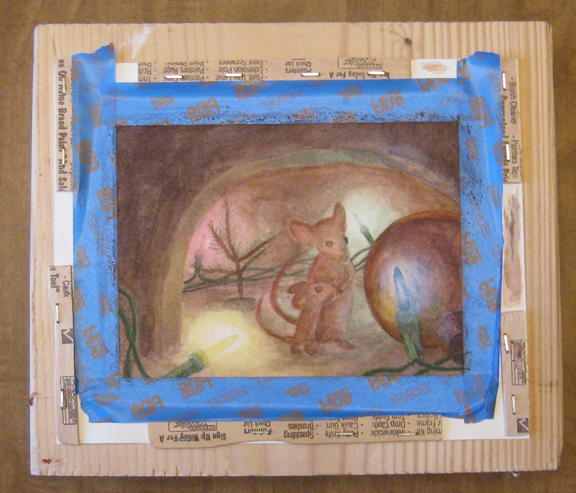 The Christmas Ornament later in the painting stages. Note how flat the colors are at this stage. I believe I had not added gouache to the painting yet. The gouache really darkened the darks and lightened the lights.
If you are interested in purchasing this painting, please contact me. I'd love to do business with you.